'The Queen of Green' visits Sherwood House
07 July 2022
Penney Poyzer, also commonly known as 'The Queen of Green' and chair of the Nottingham Good Food Partnership kindly donated her time to support our garden restoration.
In recent years, the gardens have fallen into disrepair. With support from Sherwood House trustees and the residents we plan to bring the gardens back to their former glory.
We invited 'The Queen of Green' to talk to the residents to find out what was important to them and what they would like to see growing in the garden.
With support from Care Home Manager Andrea Downs and Contracts Manager Sue Collingwood, Penney started by asking the residents' to think back to when they were children and foraging for their food. This brought back wonderful memories of picking wild blackberries, apples, pears and gooseberries all of which were made into delicious pies or jams.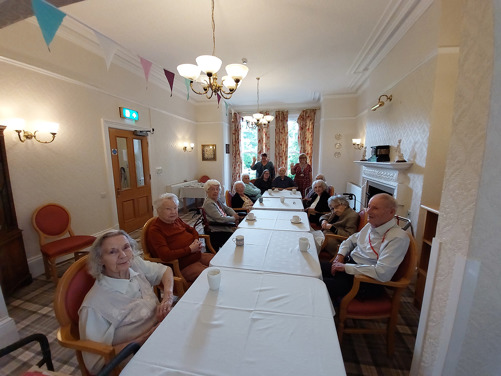 Our aim is for residents to reconnect with nature by engaging them in the early stages of the planning. We would like to be making use of the grounds to grow the foods and plants our residents would like to see. We also want our chef to utilise the foods growing in the garden to make delicious pies that our residents so fondly reminisced about in our discussions.
The work will not only increase the biodiversity but ensure the garden is visually appealing for our older residents. It will have therapeutic benefits, be safe and full of bird song.
We look forward to seeing the ideas come to life over the next year and seeing our residents spending quality time outdoors.