Meet Lianne, our Activities Co-ordinator
13 February 2022
Lianne started her career in care in 2012 as a Healthcare Assistant at a local dementia care home. She then applied for the position of Activities Co-ordinator and was successful. This led her to winning the 2014 National Care Award for Best Activities Co-ordinator.
Lianne played a pivotal role at Sherwood House as Activities Co-ordinator since she joined the team in 2015.
"I fell in love with Sherwood House upon driving up the driveway for my interview. The house was beautiful and with it being July the grounds were stunning. I met a few of the residents that day and I knew I was going to love it here. I liked the idea of a smaller home so that my time wasn't so stretched and I could spend more time with the residents.
"My role as Activities Co-ordinator gives me the opportunity to engage with the residents, provide meaningful activities and encourage relationships with others. Our residents like the company which is great for their wellbeing. I hate to think of anyone being on their own and becoming withdrawn and isolated.
"One of my favourite tasks within my role is organising the events, the day trips, fairs, and fundraisers. I have continued to hold them during the pandemic but only in-house for the staff and residents.
"Back before the pandemic we would organise Easter, Summer and Christmas fairs, coffee mornings, Bring and Buy sales, preloved clothing sales and so much more. We would have regular raffles and tombolas and would bring the community into the home.
"One of the best achievements has been the success of our Intergenerational project with the local school. It was great to just stand back and watch and listen to how the local school children and our residents interacted with each other and to see the joy the children bought to the residents.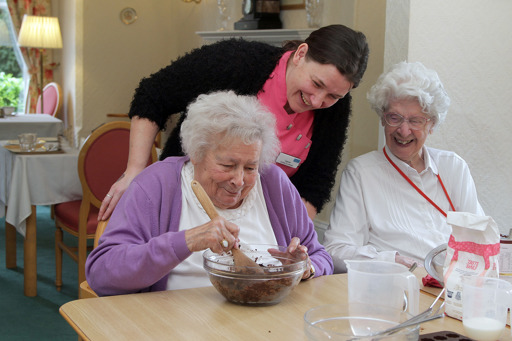 "Working in a care home is a varied and stimulating job that gives you the opportunity to work with a variety of people. Our residents come from different backgrounds and have varying stories but all have one thing in common and that is companionship and peace of mind that comes from living in a safe and supportive community of like-minded people."
With a strong passion for care, Lianne strives to make the residents as happy and comfortable as possible. "I wholeheartedly believe that age is just a number. Our residents should be encouraged to have new experiences, learn new skills, and continue to live fulfilling lives."
Lianne's praised amongst the residents for her care and passion. They love her impeccable reading skills and how in the moment they feel when she reads to them.
Andrea, Manager at Sherwood House says: "Lianne is very passionate about helping others. She always gets excited about new activities and events, and is truly fantastic at her job."
Thanks for everything you do Lianne, you're truly appreciated by everyone at Sherwood House.